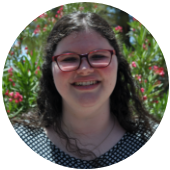 Alyssa Brillante
New Mexico
"I have had the best experience with faculty in this program. They are invested in my success not only as a student but as a human being. They are compassionate and creative, and I look forward to each class knowing they encourage critical thinking and discussion."
Tell us about your personal and professional background.
This is my second master's degree. I have a background in public history but have actually always wanted to be a librarian. I love books, I love research, I love organizing information, and I wanted a career where I could explore. After a brief career in public history, I gravitated toward library science, but my state didn't have a program. Growing up with a background where education was always valued, I decided pursuing a Master of Library and Information Science was my best choice. When I found the University of Denver program, I didn't hesitate to reach out for information and apply, which has been the best decision I've made.
Why did you choose to pursue a Master of Library and Information Science?
After careful consideration of different career paths and opportunities, I decided to pursue my Master of Library and Information Science because I wanted to join a profession that celebrates information. Libraries are so diverse; you have public, school, academic, special and archives, and each plays a unique role in our communities. An MLIS allows me to explore libraries in ways that I hadn't considered before and find the right library path for me. I love that I have the ability to study so many different facets of library science all in one program.
How has this program prepared you for success as an information leader in your community in today's information era?
The University of Denver MLIS program is cutting edge. The professors know what is happening in the field—many of them are in the field themselves—and that makes the course content highly relevant and very relatable. Having such good courses and the opportunity to attend live class-session discussions that allow us to delve into the readings and ask questions has really prepared me to be an information leader in my community. In each class, I have found something relevant to my passions and interests that I cannot wait to apply in my own community and career. I feel prepared because classes have covered content from foundational subject matter to intricate questions concerning diversity, privilege and equity while exploring ideas like public library practice, management and leadership, information literacy and ever-important digital information ideas.
What has your experience interacting with faculty been like during your time in the program?
I have had the best experience with faculty in this program. They are invested in my success not only as a student but as a human being. They are compassionate and creative, and I look forward to each class knowing they encourage critical thinking and discussion. Even the most complicated ideas, like metadata, were made understandable and approachable in my classes. That's because the faculty took the time to guide us and answer our questions—and challenge us to think about things from new perspectives. I appreciate every faculty member I have had the great opportunity to interact with because they took the time to get to know me and my interests and my passions—and have helped me grow as a library and information science student who feels prepared to contribute to the field.
How have you benefited from earning your degree using MLIS@Denver's innovative online platform?
The innovative online platform has been wonderful. By having both synchronous and asynchronous content, I can tailor assignments to my needs because I can complete them on my own schedule as often as possible. The synchronous content and excellent syllabi provide enough structure that I don't struggle to stay on task as much as I have in my previous education experiences. The online platform is really intuitive, and learning how to navigate it and take advantage of what it offers has enhanced my learning. My favorite part of the platform is being able to revisit live class recordings for clarification or just to relisten to great discussions!
What is one thing you want a prospective MLIS@Denver student to know?
I would tell a prospective student that this program is worth the time and investment because everything I have put into the program has come back to me tenfold. I have had so many wonderful experiences. Coming from a traditional education background, I know this program is a great fit for students who have struggled in more traditional programs. This online program is so innovative. It challenges me to think beyond my own frame of reference, which I have found to be priceless in my education.