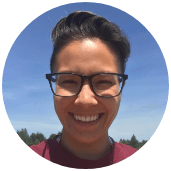 Maya McKenzie
Seattle, Washington
"It's not just learning content and being able to discuss it or write about it—the program provides constant opportunities to practice, to watch and reflect on those practice sessions, and to make improvements. Every class discusses diversity, ethics and the diverse roles school counselors have, and it is empowering."
Tell us about your personal and professional background.
I'm from Portland, Oregon, but I've lived in Seattle for about four years and work for Seattle Public Schools. I completed my undergrad in psychology and Asian studies at Kenyon College (in central Ohio) and also have a master's in education in curriculum and instruction from Portland State University. I also teach karate, something I've participated in since I was about eight. I have experience as an assistant preschool teacher, Montessori assistant and elementary school camp guide. I've coached high school basketball and softball, so I've always loved being around education, whether in terms of athletics or in the classroom.
Why did you choose to pursue a Master of Arts in school counseling?
It has taken me some time to figure out what I really wanted to do, hence the other master's in education. I love working with kids and adolescents, and studying psychology, development and learning theories is something that has always intrigued me. I just needed to find the right path, and counseling is something that felt most natural. I couldn't see myself so much in a classroom every day—I want to be able to work with students one-on-one, in groups and with other staff to advocate for changes in our schools that can better support the needs of our students. The idea of working with a team of counselors, such as in a high school, is really appealing to me. I love collaboration, and that's probably the athlete and coach in me coming out.
How has this program prepared you for success as a school counselor and agent of change in your community?
This program has been great because from the very first class and in every class so far, I've had the opportunity to practice with my classmates. It's not just learning content and being able to discuss it or write about it—the program provides constant opportunities to practice, to watch and reflect on those practice sessions, and to make improvements. I feel like I've been provided with realistic situations and questions to consider when acting as an advocate for students, families and the community. Every class discusses diversity, ethics and the diverse roles school counselors have, and it is empowering. For example, acting as a supervisor and teaching others, providing group sessions for staff or students, or even conducting research, I am learning about many different arenas I can act in to make a difference.
What has your experience interacting with faculty been like during your time in the program?
I was actually surprised about how personal this program has been—being an online program. The faculty have been incredibly supportive in the transition to an online program, through starting a quarter at the start of the COVID-19 pandemic and providing opportunities to discuss pertinent issues, such as the racial injustices that are more visibly surfacing right now. The faculty has made an effort not only to be our teachers but to be support systems in trying times. Having both a faculty advisor and student success advisor has made me feel more connected and supported than any other program I've been a part of.
How have you benefited from earning your degree using SchoolCounseling@Denver's innovative online platform?
I work full time and teach karate in the evenings, so finding a way to go to grad school and pursue my passion felt daunting. There are in-person programs around me in the Seattle area, but being able to do the DU program online has been so much more convenient and has allowed me to continue working. Even though it's online, I still feel connected to my classmates as we see each other over and over and progress through as a cohort. I didn't think I would have this opportunity online, and I didn't in my other program. I also appreciate the diversity in where my classmates are around the country and the different experiences we've been able to share with each other.
What is one thing you want a prospective SchoolCounseling@Denver student to know?
With this program, you will be able to gain the benefits of an online program but still experience the social and emotional connections that you normally would with an on-campus program. We log into our classes a little early and get a chance to catch up. We have "breakout rooms" and still have moments to socialize, work on group projects and sign up for virtual office hours with faculty. You won't feel detached in this online program; quite the opposite—you'll connect with students and staff and look forward to laughing at the awkward first practice sessions, the support in vulnerable moments and visible growth that you go through together.