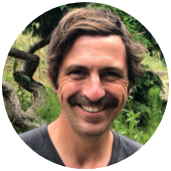 Ian Patton
Oakland, California
"Becoming a counselor will allow me to continue working with and for students to improve their lives and the communities to which they belong."
Tell us about your personal and professional background.
I have worked as a political organizer, special education teacher and most recently as the co-owner and chef of a café and performance venue in Oakland that hosted community events six nights per week. I enjoy community-related work where I get to interact with people and there is a spirit of creation and motivation to improve the community.
Why did you choose to pursue a Master of Arts in school counseling?
School counseling seemed a logical progression after teaching. I enjoyed the interpersonal interactions when I was a teacher but did not care for the grading, lesson planning, etc. Becoming a counselor will allow me to continue working with and for students to improve their lives and the communities to which they belong.
How has this program prepared you for success as a school counselor and agent of change in your community?
One of the things I value most in this program is the emphasis on social justice and equity. Those ideas are infused throughout the program and are foundational values that will guide my work as a school counselor and advocate for students.
What has your experience interacting with faculty been like during your time in the program?
Faculty have been knowledgeable, responsive, supportive and kind. They make me feel like they are invested in me as a person first and as a student second. I would highly recommend engaging with professors outside of class to enrich the learning experience.
How have you benefited from earning your degree using SchoolCounseling@Denver's innovative online platform?
I was concerned going into the program that I would feel disconnected or isolated because I wasn't "in" the classroom. This has not been the case at all. The online platform and classes have been engaging, inclusive and conducive to learning a lot from each class.
What is one thing you want a prospective SchoolCounseling@Denver student to know?
The more you put into this program, the more you'll get out of it. Beyond learning the skills and theories behind school counseling, this program has helped me to grow as a person, and I am grateful for the opportunity.