What Does an Archivist Do?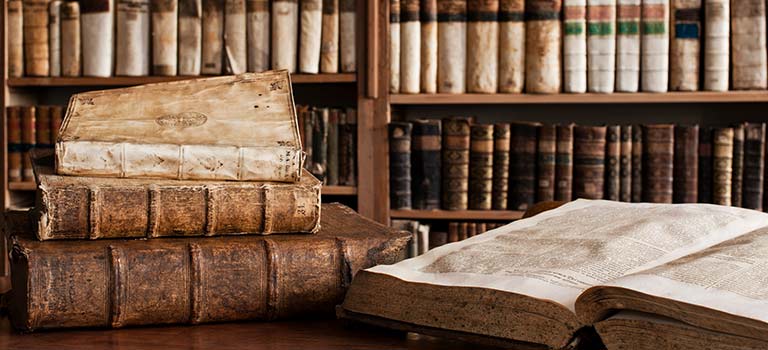 Are you passionate about history? Does the notion of playing an important part of the preservation and conservation of significant pieces of history sound enticing? If so, becoming an archivist could be the right career choice for you.
What Is an Archivist?
Archivist and Associate Director of the Archives at Boston's Berklee College of Music Sofia Becerra-Licha recently took on an outstanding assignment: She is spearheading a team tasked with archiving all manner of artifacts and records for the National Theatre in Washington, D.C. The theater has been in operation since 1835, with most of its historical records, playbills, photographs, cassette tapes and other artifacts crammed into a single tiny dressing room.
"Many of us believe these materials are going to be a bonanza for scholars and students of American theater," National Theatre Board President Sandy Wilkes told the Washington Post.
So, what does an archivist do? Archivists like Becerra-Licha are storytellers, to a certain degree. According to the Society of American Archivists (SAA), these professionals tell the history of a community through several important tasks:
Preserving pieces of history
Holding people and institutions accountable
Improving access to historical information through technology
Connecting researchers with the documents that they need
To boil it down to a general definition, archivists are professionals who are specially trained in preserving original and historically significant materials. They may also help people find such items. Archivists may work with paper documents, photographs, maps, films or computer records—or any combination of these. Oftentimes, these specialists begin their careers as librarians or historians.
The archivist profession can be practiced in many types of industries and organizations. Archivists may work with rare manuscripts, digital documents, analog film, historical letters, diaries, photographs and more.
The SAA outlines these important skills for an archivist:
Broad, deep knowledge about records
Involvement in multiple phases of the lifecycle of records
Extensive research and analysis skills
Ability to serve the public in accessing information and records
Archivist Responsibilities
Archivist responsibilities (according to the U.S. Bureau of Labor Statistics for 2018) often include the following:
Authenticate and appraise historical documents
Preserve and maintain documents and objects
Create and manage a system to maintain and preserve electronic records
Organize and classify archival records to make them easy to search through
Safeguard records by creating film and digital copies
Direct workers to help arrange, exhibit, and maintain collections
Set and administer policy guidelines concerning public access to materials
Find and acquire new materials for their archives
Archivist Career
While there are roughly 3,000 full- and part-time employees working at the National Archives and Records Administration (NARA) in various capacities across the country, this is not the only place to find employment for archivists. Archivists can be found wherever records of importance are needed, including:
Libraries
Museums
Universities
Corporations
Government institutions
Hospitals
Historical societies
Religious organizations
Source: U.S. Bureau of Labor Statistics (2018 data)
Studying Archiving
With an MLIS degree, such as the one offered through the online MLIS program from University of Denver's Morgridge College of Education, you can build a deeper understanding of the theory and practice of archiving in ways that can help you grow professionally. This is true whether you decide to pursue tech-focused positions, such as digital archivist, or more traditional ones, like a museum archivist.
MLIS@Denver offers a three-course archiving focus as a part of the MLIS curriculum to learn archivist skill sets that are increasingly necessary in a wide variety of organizational settings.
With these specialized courses, students are reinforced in the importance of preserving a community's history:
Introduction to Archives and Records Management: Students get an introduction to the objectives and methods of the archival and records management professions, including an overview of terminology, issues and common practices.
Digital Libraries: Students develop an understanding of digital library components and explore theoretical and practical approaches to constructing, maintaining and evaluating digital libraries.
Digitization: Students focus on the process of converting analog materials into the digital format, online delivery and preservation of master files.
Archivist Career Path
Perhaps the pinnacle of archivist fame and achievement would be landing the position of Archivist of the United States. This is the head of the National Archives agency and is appointed by the president. Before garnering such a lofty position, however, you can gain hands-on experience in other archival roles. As an archives specialist, you can work with archivists to apply specialized knowledge about certain subjects to records being kept and work on projects describing or preserving such collections of records. You may be tasked with working directly with the public when your expertise is requested. As an archives technician, you can assist archivists by locating and carefully retrieving delicate records kept in safe storage. In this capacity, you can work with conservators to clean, repair and preserve older and more fragile pieces of history.
Archivist Salary
Because of the specialized nature of the work and the broad array of industries archivists work in, salaries, benefits and working conditions for archivists can vary greatly. According to the SAA, archival institutions range from large, well-funded operations to smaller organizations with limited activities for part-time staff. This makes generalizing about salary expectations for archivists difficult. The overall job outlook for archivists in the United States is projected to grow 9 percent from 2018 to 2028, which is faster than the average for all occupations.
According to the BLS, the following are the highest-paid industries for archivists (with corresponding mean annual salaries for 2018):
Federal executive branch: $88,510
Computer systems design and related services: $70,720
Radio and television broadcasting: $70,190
Management of companies and enterprises: $68,380
Legal services: $66,610
Learn more about the online Master of Library and Information Science program from University of Denver's Morgridge College of Education.
Citation for this content: Morgridge College of Education's online Master of Library and Information Science program