In a Milestone for the Program, MLIS@Denver Graduates Its First Student
Student Spotlight
Emily Fowler
MLIS@Denver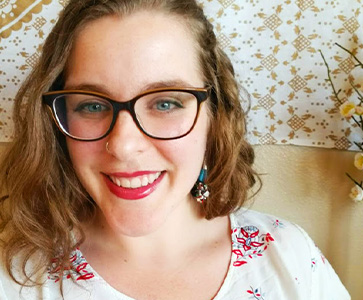 After six years of teaching at the high school and college levels, Emily Fowler learned that changes in the requirements for her position meant she would have to return to the classroom as a student to pursue a graduate degree. However, she wasn't sure exactly which field she wanted to pursue.
"After some self-reflection, I realized that I have always been passionate about the learning aspect of teaching," Fowler said. "I love information literacy, and I am very passionate about the actual learning process."
Encouraged by her librarian friends, Fowler began looking into programs in the library and information science field. With two young children at home, she needed a flexible program that would allow her to balance her workload and schedule. Ultimately, Fowler decided on the online Master of Library and Information Science (MLIS) program from the University of Denver's Morgridge College of Education. And 14 months later, Fowler is the first graduate of MLIS@Denver.
"Every class I've taken has changed me and given me tools to move into the field with confidence," Fowler said.
What Skills Do Students Develop in a Master of Library and Information Science Program?
For Fowler, the primary learning outcome of the MLIS@Denver program was the ability to be a leader in her community by helping others access information in a variety of forms and settings.
"Sometimes those of us who have the skills to navigate information forget that it can be a challenge for people who don't have those skills," she said. "Librarians bring the ability to organize and distribute reliable information, and in our society today, that is an invaluable asset."
Some of the core skills and concepts that students learn in the program include understanding the needs of community members through outreach and analysis of data; improving access to information guided by the principles and standards of the field; and establishing connections to other librarians, businesses, vendors and community members in order to both develop and provide services that will help to meet the needs of the community. Just as good instruction is student-centered, good librarianship is user-centered for both public and academic libraries.
"I think of librarians and archivists as translators," said Mary Stansbury, PhD, associate professor for the MLIS@Denver program. "We understand our users, match that understanding with the creation of accessible content and evaluate the effectiveness of that access and content."
Common careers that graduates pursue often include:
Archivist
Children's and young adult services librarian
Adult services librarian
Reference librarian
Instruction librarian
Collection manager
Digital collections developer
Web content creator
Scholarly communications librarian
Data analyst
But students shouldn't feel limited to these fields.
"If we take those skills and put them into a context such as project management, architecture, engineering, foundations, marketing, or just about any other field, someone with LIS training can find a wide range of opportunities," Stansbury said.
The Benefits of the MLIS@Denver Program
While Fowler is eager to apply the skills she's developed to the next stage of her professional life in a PhD program, the benefits of her instruction with the MLIS@Denver program extend beyond academics. She has developed connections with students and faculty that have made her feel like a part of a lasting community.
"Every professor that I have had has been committed to helping me not only get through the program, but excel in the program and in my professional life," she said. "I have had deep conversations with some of my professors that have changed my perspectives on life."
And, as Stansbury explained, this graduation will be an important milestone for both Fowler and the program.
"I can't think of a better person to be our first graduate than Emily Fowler," she said. "We're all very proud of her excellent work and excited for the next steps in her professional life. Our first graduate tells us that the online program as delivered makes the MLIS an achievable goal."
Are you considering pursuing a graduate degree in the field of library and information science? Fowler suggests attending informational workshops, emailing a professor or even just striking up a conversation with a librarian you know; they are, after all, there to help you find the information that you're looking for.
"And if you decide you want this, just go for it and dive in," Fowler said. 
Citation for this content: Morgridge College of Education's online Master of Library and Information Science program