Libraries Evolve to Bridge Digital Divide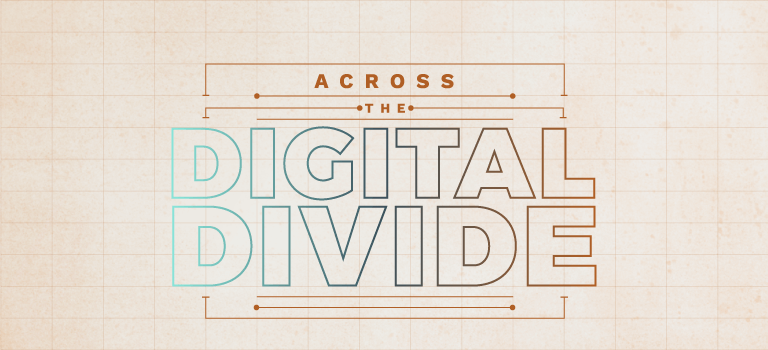 For most of recorded history libraries were places where people could get access to information, expand their knowledge, and record important historic information. Ancient libraries, like the one founded in Alexandria in the 3rd century BCE, held towers of scrolls written by the best writers of the age. The Ptolemies ordered every ship visiting Alexandria's harbor searched for scrolls to copy for their growing library shelves.
The oldest library in operation today, Al-Qarawiyyin in Morroco, has kept its doors open since 859. In the 15th century, after the invention of the printing press, information began reaching even more people. At the time when recorded information was scarce, libraries were a central meeting point for intellectuals and scholars.
Today, the role of libraries in the internet age has expanded beyond the manuscript collections they maintain. Libraries can provide the access and skills needed to navigate the digital world, bridging the gap between information and access.
The traditional definition of the digital divide is the gap between those with internet access and those without. That access can be determined by whether or not a person has the technology needed to get online, the means to access the connection itself, or a combination of both.
Access is still an issue in the United States, where nearly a quarter (23 percent) of Americans don't have the internet at home, according to a report on computer use by the U.S. Census Bureau. The less digitally-connected are more likely to live in rural areas or be minorities, older adults, low income or uneducated.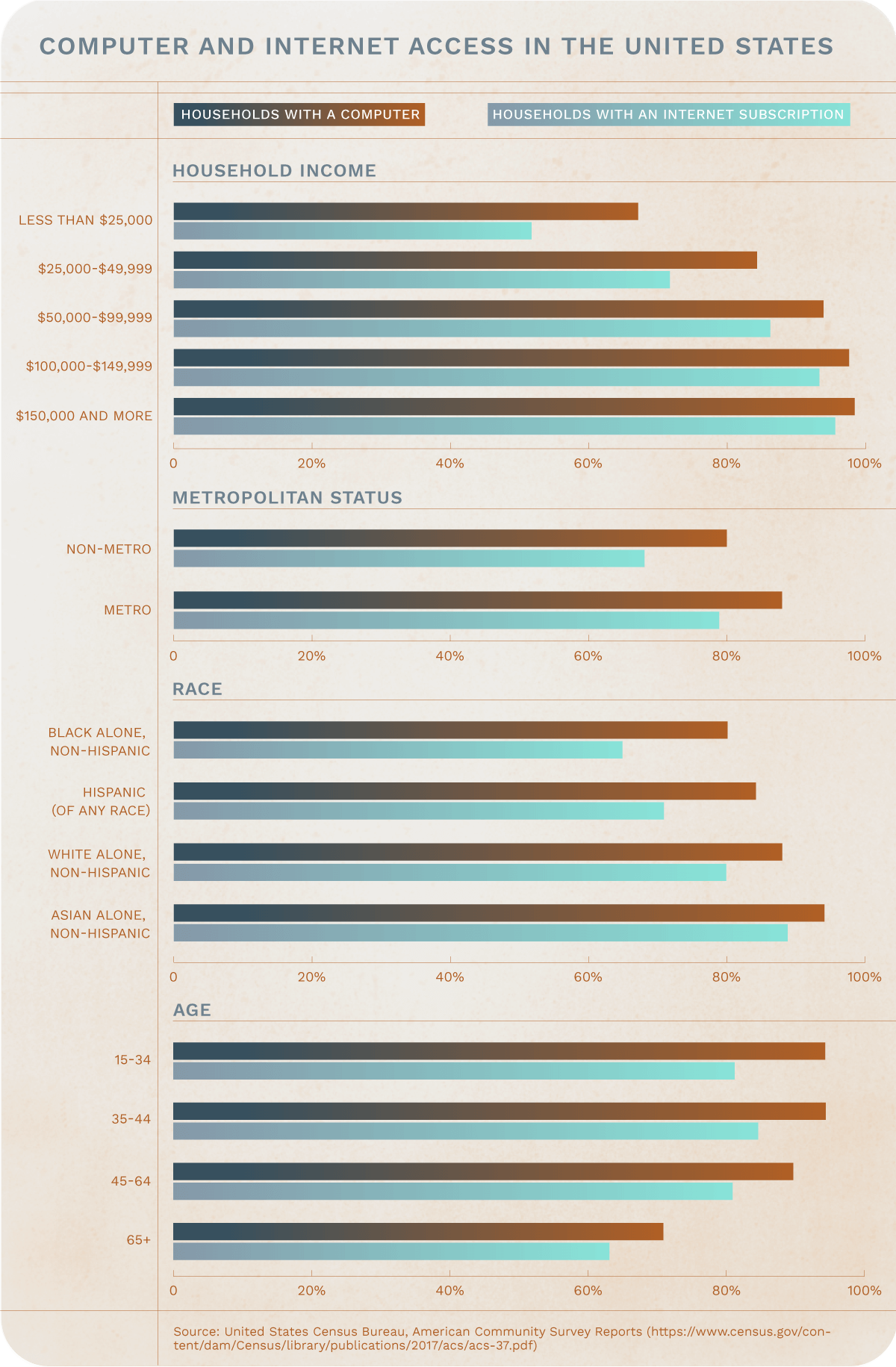 Income is the largest determinant of whether or not someone has access. Only 67 percent of households with less than $25,000 in income have access to a computer, and only 51.7 percent of them have access to internet. In comparison, households making between $50,000 and $99,999 had 93.9 percent of households with a computer and 86.2 percent with internet access.
Age was the second largest determinant when looking at access to a computer and internet. Over 94 percent of households ages 15 to 34 had a computer and 81.2 percent had access to internet. Only 70.9 percent of households ages 65 or older had a computer 63.1 percent had access to the internet. Go to the data at the bottom of this page about computer and internet access in the United States.
But the digital divide is more than an access problem. There is a skills gap that spans generational and socioeconomic demographics. As technology gets more sophisticated, learning how to use it becomes more challenging.
Mary Stansbury, lead faculty member of the online master of library and information science program from University of Denver's Morgridge College of Education, said the gap exists even on the physical level. How do you use a mouse and keyboard? How do you interact with voice recognition or a touch screen? How do you turn a computer on or off?
And once you do that, Stansbury said, "How does one figure out what I'm looking for?"
The skills gap is more apparent between generations. Older people who spent the majority of their lives without the internet didn't grow up with the skills needed to access and use it.
"We spend a lot of time with the older generation," said Michael Carlson, library director at Gilpin County Public Library in Black Hawk, Colorado. The district covers a county of fewer than 6,000 people. Carlson said many school-age children in the county have their own computers and phones, but are "camped outside our doors on days we are closed to use our Wi-Fi."
Role of Libraries
Traditionally, libraries were thought of as information storehouses — communities valued libraries for their books and collections, and the information they could use from them.
"The collection kind of drove everything that went on with the library," Stansbury said. That shifted during the Industrial Revolution, when libraries served as hubs for skills-driven education.
Another example of that continuing adaptability, Stansbury said, was when libraries provided digital access during the "very first years of widely geographically available internet."
A big part of that push came with an amendment to the Telecommunications Act of 1996 that allowed libraries and schools to adopt the internet at a heavily discounted rate, especially in low-income areas.
"Public libraries have been taking advantage of that E-rate discount for decades now," Stansbury said. "Once that kind of funding emerged … they received money to encourage and support deployment and internet access. Once the money was there, I think most libraries realized that this isn't just a temporary phenomenon. It's here to stay."
That deployment is critical in places like Gilpin County, Colorado, where Carlson says internet access is "woefully inadequate."
"Everything is done online, from airline reservations to job applications. We're the technology hub for the community," he said.
That's evident in how patrons use the Gilpin County Public Library today: 54 of every 100 visitors come in to use one of the library's computers. That's greater than normal, but in line with what rural, remote libraries experience. Compared to libraries in urban or suburban areas, rural libraries receive more people per capita, and more of them are using a computer.
Libraries in large cities tend to have fewer visitors per capita, but more computer users than libraries in suburban areas. Visitors to libraries in remote locations tend to use the library and computers at a higher rate than do people in large cities. Large suburbs have the highest rates of library usage but visitors don't utilize computers as much as they do at libraries in cities and rural areas. Go to the data at the bottom of this page about library visitors versus library computer usage.
Balancing Tech and Traditional Solutions
Income can determine whether a community needs to rely on the library for internet access. Rural communities with more low-income people have less home internet access. Suburban residents with higher median incomes use the library less for that reason. But why are city patrons using library computers at such a higher rate?
Bo Kinney, circulation services manager at the Seattle Public Library, suspects it might be because of rising income inequality in cities.
"Seattle as a whole is a very wealthy city, but there is this shrinking middle class," Kinney said, "and a growing number of really poor people as well."
Seattle's tech companies have helped drive its median income for family households to $121,000 in 2017, according to income data reported by The Seattle Times. The city has also had a spike in homelessness. The homeless count for Seattle's King County saw an increase from 8,500 people in 2008 to over 12,000 people estimated in 2018.
Wealthier people don't need to use many of the digital and traditional services a library provides, because they have the money to access them on their own. Lower-income patrons, however, still rely on the library for both.
The Seattle Public Library is addressing what Kinney describes as a "moving target" of the digital divide by catering services specifically to certain low-income groups. It allows visitors to check out mobile internet hot spots the same way they'd check out a book. And they're bringing those hot spots directly to places like the city's homeless camps.
The library is bridging the digital divide without sacrificing what it has done since opening in 1890. "None of the traditional library services have gone away or even declined in any significant amount," Kinney said.
Programs like hotspots in Seattle and adult digital education in Gilpin County reflect the flexibility of libraries in how they can provide access to information to the widest population possible. The mission is still the same. The scope has expanded with the evolving needs of library patrons.
Stansbury also sees libraries serving as community centers.
"Suburbs don't tend to have that kind of thing," she said, "and the library becomes that gathering place."
The following section includes accessible data from the graphics in this post.
Computer and Internet Access in the United States
| Household Income | Percent of Households with a Computer | Percent of Households with an Internet Subscription |
| --- | --- | --- |
| Less than $25,000 | 67.1 | 51.7 |
| $25,000-$49,999 | 84.3 | 71.7 |
| $50,000-$99,999 | 93.9 | 86.2 |
| $100,000-$149,999 | 97.6 | 93.3 |
| $150,000 and more | 98.4 | 95.6 |
| Metropolitan Status | Percent of Households with a Computer | Percent of Households with an Internet Subscription |
| --- | --- | --- |
| Metro | 88 | 78.9 |
| Non-Metro | 80 | 68.1 |
| Race | Percent of Households with a Computer | Percent of Households with an Internet Subscription |
| --- | --- | --- |
| White alone, non-hispanic | 88 | 79.9 |
| Black alone, non-hispanic | 80.1 | 64.9 |
| Asian alone, non-hispanic | 94.1 | 88.8 |
| Hispanic (of any race) | 84.2 | 70.9 |
| Age | Percent of Households with a Computer | Percent of Households with an Internet Subscription |
| --- | --- | --- |
| 15-34 | 94.3 | 81.2 |
| 35-44 | 94.4 | 84.6 |
| 45-64 | 89.7 | 80.9 |
| 65+ | 70.9 | 63.1 |
Back to graphic, Computer and Internet Access in the United States
Library Visitors versus Library Computer Usage
| | | |
| --- | --- | --- |
| Large City (250k +) | 20.5 | 3.474 |
| Medium City (100-250k) | 20.0 | 4.097 |
| Small City (Less than 100k) | 17.3 | 4.316 |
| Large Suburb (250k+) | 14.4 | 5.567 |
| Medium Suburb (100-250k) | 15.0 | 4.518 |
| Small Suburb (< 100k) | 15.3 | 4.277 |
| Town, Fringe | 16.1 | 4.475 |
| Town, Distant | 19.1 | 4.101 |
| Town, Remote | 20.0 | 4.780 |
| Rural, Fringe | 13.9 | 4.171 |
| Rural, Distant | 18.2 | 4.284 |
| Rural, Remote | 21.9 | 5.029 |
Back to graphic, Library Visitors versus Library Computer Usage
Citation for this content: The online Master of Library and Information Science from University of Denver's Morgridge College of Education